Printable Areas offer an ability to add images and logos to a predefined area and manipulate those images and text inside of that area. This is something that is used for Promotional Products or T-shirt design prints. (beta)
Please note that this feature is under active development and we are working on making it better.
To enable Printable Areas please click on the button that looks like a printer on the main product screen.
In the menu that appeared – click 'Add New Printable Area'
Give it a title and enable 'Text' for offering text editor to your customers or 'Upload' to let them upload logos or artwork. Select which view this area is for.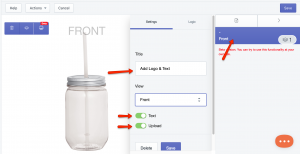 Click 'Save'.
Configure the green square on the product, that's where the Printable Area will show up
Click Save again and close the Printable Area sidebar. (arrow button)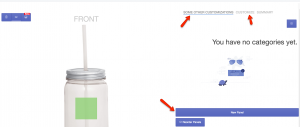 In order to make it work you would need to make one more step. Click – Add New Panel on the main screen. Give it a title. It can be sizes, qty or any other customization for the product. Without this step the tab for Printable doesn't show up for now :/ You can hide the panel you don't need via custom CSS.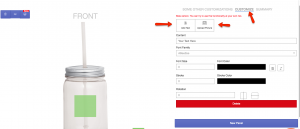 Enjoy Printable Areas on your product!
IMPORTANT: To make sure the product categories / options are saved properly – first click SAVE at the bottom of the category / panel / option screen, and only after that the SAVE button at the top of the page.