Use this feature if you require a unique SKU in the order, glued from the SKUs connected to your options.
Generate a unique SKU that can be used for fulfilment/inventory tracking.
Each tab and custom option in CPB comes with a SKU field. These fields can be combined into a unique SKU at the cart. It will be a combination of all SKUs for all options. Final SKU can be used for inventory tracking or product fulfilment.
To create a combined SKU from your product variants, use the following feature in Custom Product Builder. It's easy and simple to set up.
Go to general settings to set up the "Combined SKU" option.
1) Choose the "Combined SKU" tab.
2) Each panel has its own composite SKU.

1) For the SKU to appear, you need to add categories to this SKU from the "Unused Categories" section.
2) Save
The next step is to add the SKU prefix to each panel.
1) Add SKU prefix
2) Save
The next step is to add the SKU to each option.
1) Add SKU to option.
2) Save
Hint: Selected categories can be sorted by moving them among themselves.
Let's try to use this.
The combined SKU will appear in the Summary if it is compiled in General Settings, and the SKU of the corresponding options are filled.

It will also be added to the properties when adding to the basket at the beginning of the parameters of each panel.
Note: you can have several combined SKUs if you separate them by a tab. In this case, one SKU will be created for each Tab you have.
You can also get combined SKU on the Custom Product Builder page:
You need to run this function:
window._cpb.getTotalSku()

It will return a combined SKU of the current state of the configuration on the front of the store. You can then pass this function to your custom inventory software to offer advanced shipping / manufacturing notifications.
Updating all options related to products by SKU
This function is for updating the Inventory settings of all options related to Shopify products. If the "Track quantity" or "Continue Selling When Out of Stock" settings have been changed in the Shopify product settings, it will not automatically change in the CPB product options.
If you've changed the "Track quantity" or "Continue Selling When Out of Stock" settings in your Shopify product, please open the CPB product settings, go to the "SKU Management" tab and Update all SKU, Apply the changes, Save the product and Refresh the page to see the changes.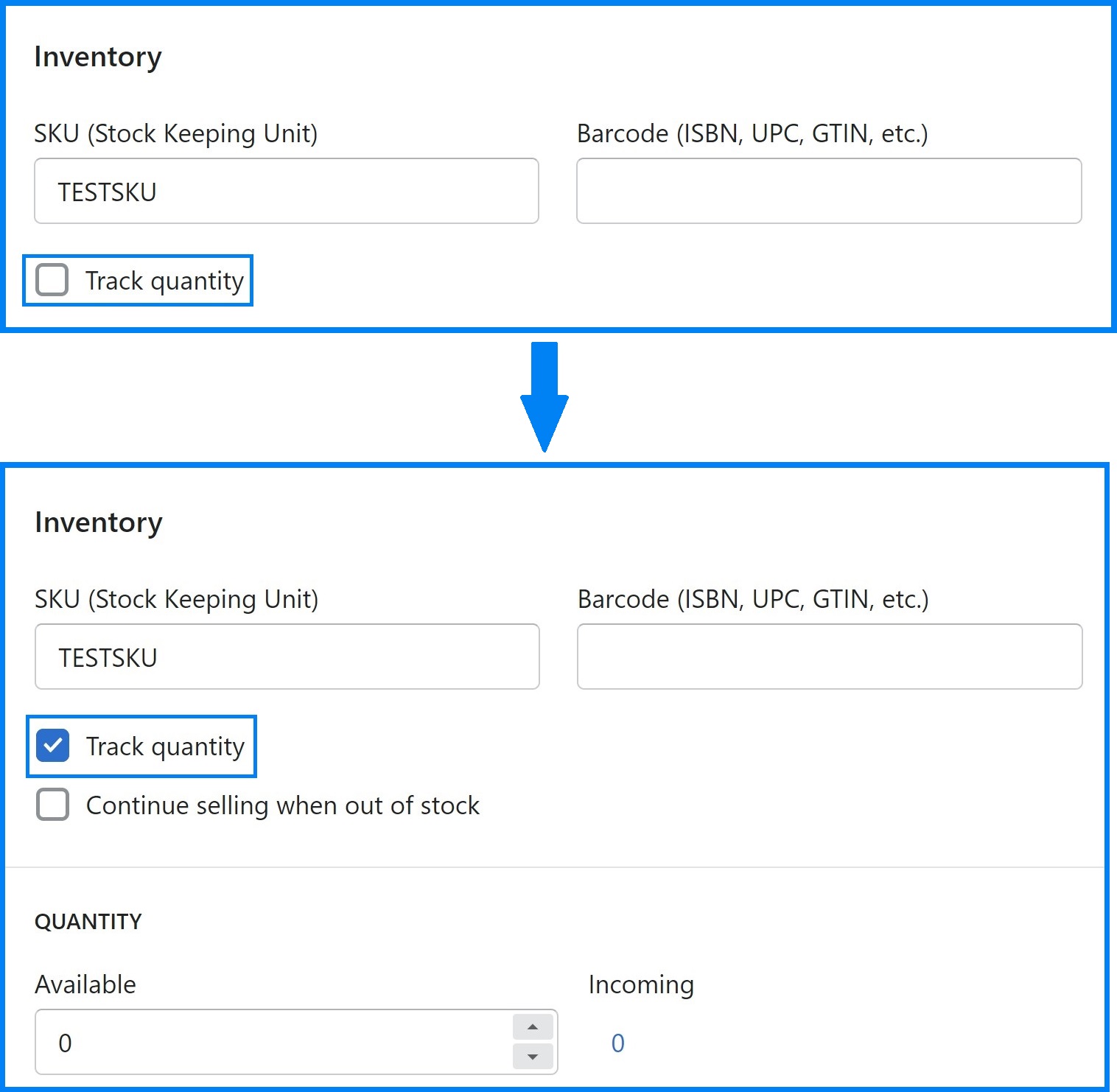 IMPORTANT: To make sure the product categories / options are saved properly – first click SAVE at the bottom of the category / panel / option screen, and only after that the SAVE button at the top of the page.